Flour bombing at the Bethel Air Show.
Photo by Allan Simpson
Flower Bomb Perfume
Flowerbomb
By Sally Smith
© 2005 Sally Smith
About 3 months ago at a small airfield in a small town in Pennsylvania, I witnessed flour bombing. While bobbing to and fro in a vintage aircraft with lawnmower sized engines, pilots flew over their targets and bombardiers released their "flour bombs" — bags of flour — and the team that came closest to the target won the contest.
Viktor & Rolf, IFF and L'Oréal have given us a new slant on flour bombing — which is now flower bombing or, to be precise, Flowerbomb, a new perfume which, if not exactly a breakthrough in perfumery, is something of a breakthrough in perfume marketing. Flowerbomb has already helped jump the numbers at L'Oréal, even though many people reading this article have probably never heard of Viktor & Rolf — but that's what Flowerbomb is all about.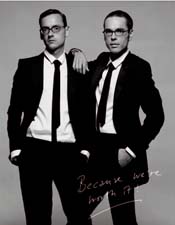 Dutch clothing designers Viktor Horsting and Rolf Snoeren are Viktor & Rolf
Viktor Horsting and Rolf Snoeren are Dutch clothing designers who sell their wares under the trade name "Viktor & Rolf." Their customers have been described as "fashion intellectuals who want to be noticed." You can find Viktor & Rolf products on ebay and, presumably, in stores that cater to fashion intellectuals. I've never come across their wares in Filene's, Bon Ton or WalMart but perhaps I just didn't notice.
L'Oréal is the world's largest marketer of cosmetics and fragrance. In the first six months of 2005, their sales were 7.163 billion euros. Their brands include Armani, Lancôme, Biotherm, Cacharel, Maybelline, Redken, Ralph Lauren, Helena Rubenstein ... In fact, L'Oréal markets over 500 different brands. They are less well known in the U.S. than in Europe where their sales are approximately double their turnover from North America. In North America, Estee Lauder might be considered their arch competitor.
IFF is the world's second largest flavor and fragrance house with 2004 sales of over $2 billion. For the second (financial) quarter of 2005, their fine fragrance division reported a 5% increase in sales. An IFF press release states that "This encouraging performance of fine fragrances was largely due to major new product wins."
Flowerbomb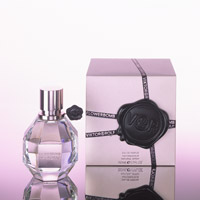 Flowerbomb perfume by Viktor & Rolf at Saks Fifth Avenue
A L'Oréal press release reports that "Flower Bomb perfume from Viktor & Rolf is one of the top ranking woman's perfumes wherever it is sold." The perfume compound (the "juice") was developed was developed by IFF perfumers Olivier Polge, Carlos Benaim and Domitille Bertier. The hand grenade bottle was designed by Fabien Baron of Baron & Baron (one of the generation's greatest designers — do a Google search for his credits!) Marketing is by L'Oréal. The brand is Viktor & Rolf.
Flowerbomb, their first scent, was launched by Viktor and Rolf in January of 2005 at Paris' Colette boutique. Flowerbomb is a woman's fragrance. A man's fragrance is in the works. Viktor and Rolf were also preparing to launch a footwear collection in collaboration with Italian luxury footwear company Iris.
Viktor and Rolf, like so many other trend setters, grew up in the suburbs, favored Hollywood movies and (Viktor claims) found their suburban lives "boring" — a favorite youth slant on life. Their clothes are for people (they say) "who set their own rules" (but are expected to pay the store's price at the cash register.) The duo studied fashion together at the Dutch Arnhen Academy of Art and lived briefly in Paris. While their work impressed the self-styled "fashion elite", they sought wider recognition.
In 1996 Viktor and Rolf staged a fake perfume launch — a bottle that wouldn't open; an ad campaign shot by fashion photographers Inez van Lamsweerde and Vinoodh Matadin. Viktor confesses that this pseudo launch revealed their desire to branch out into cosmetics.
The Marketing Value Of Perfume
Flowerbomb reached the U.S. as a Saks Fifth Avenue exclusive. But Viktor & Rolf is not a brand that Saks carries in its clothing departments. Rather, Flowerbomb is a feeler being put out by Viktor & Rolf to see if their names might begin to become known in the U.S. — a huge market compared to Paris and the Netherlands. At only $95 for a 1.7 oz bottle of Flowerbomb in the Eau de Parfum spray, the product is easily affordable by Saks shopping standards. If they like the fragrance, will they demand the clothes? We don't yet know.
What we do know is that Flowerbomb in fact is like the hand grenade the bottle is styled after (although Saks refers to the bottle as "cut like a multi-faceted diamond") It is hoped by both Viktor and Rolf and L'Oréal that it will explode in enough sales to start a line of perfumes and cosmetics. The initial results have been positive.
In fact, what we see is perfume as a cheap marketing tool — a trial balloon that can judge the reception that a larger investment might bring. While there is the usual claim of "hands on involvement" by the designers, the fragrance, in fact, is made by perfume professionals. Viktor and Rolf, like other celebrities and brands, are but the clients. And, as Viktor is quoted as saying, "we didn't want a niche fragrance ... we wanted it to be big." WalMart big? We don't yet know.
Could you create a Flowerbomb? With a practical marketing outlook you might try.
—— ## ——
If you have any information or thoughts on Flower Bomb perfume, please share with us using the message sender below.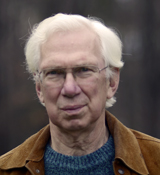 Philip Goutell
Lightyears, Inc.