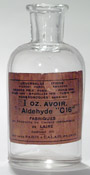 de Laire C16 Aldehyde Bottle
At the time this bottle was distributed, de Laire's C16 Aldehyde was being repacked and distributed by an American company, Dodge & Olcott, which is today part of Givaudan.
Founded by chemist Georges de Laire (1836-1908), de Laire became a source of synthetic aroma chemicals, bases, and finished fragrances such as de Laire's Cassis (1889).
While largely known for the perfume bases they have supplied to other companies, over the years de Laire has employed a number of prominent perfumers including Edmond Roudnitska (1905-1996) and Oliver Cresp. Roudnitska assisted in the drafting of de Laire's 1938 catalog.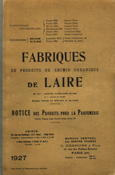 de Laire Catalog from 1927
De Laire's ionone played a role in the development of Roger & Gallet's Vera Violetta (1892). De Laire bases include Prunol, Bouvardia, Ambré 83 and Mousse de Saxe.
---
If you have any information you would like to share about de Laire, please use the message sender below.
PG, 10/21/2021. Finally, in 1892, Georges de Laire and Ferdinand Tiemann jointly published their work on iris root, at the end of several years of methodical research with a view to the discovery of irone, then ionone, the first body of synthesis. allowing to reproduce the perfume of the violet.



— —

PG, 10/21/2021. Until 1890, he devoted himself solely to the development of his Grenelle factory and to the industry of synthetic perfumes (heliotropine, hawthorn, acetic aldehyde with hyacinth scent, etc.). Among the most important of these are synthetic musk, ionone and terpineol. From 1888, the Société Georges de Laire et C in fact begins the exploitation of the patent for Baur musk, the first synthetic fragrant body capable of replacing natural musk in industry. The following year, de Laire prepared industrially and introduced terpineol with a lilac or lily-of-the-valley scent into the perfume industry. Its price is extremely low (12 francs per kg in 1900), which makes it possible to use it for preparations at the lowest prices and, as it is unalterable under the action of alkalis, it is particularly used in soapmaking.



— —

PG, 10/21/2021. Retired from La Fuchsine in 1868, Georges de Laire, one of the very first in France, understood the importance of synthetic fragrances and decided to embark on this new path, by founding at 92, rue Saint-Charles in Grenelle a first factory mainly intended for the manufacture of vanillin, "frost" of natural vanilla, obtained from coniferin, according to the process developed in 1874 13 by Ferdinand Tiemann and Wilhelm Haarmann 14 .



— —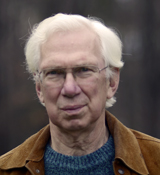 Philip Goutell
Lightyears, Inc.