Click on image to enlarge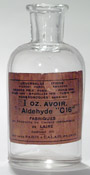 de Laire C16 Aldehyde Bottle
At the time this bottles was distributed, de Laire's C16 Aldehyde was being repacked and distributed by an American company, Dodge & Olcott, which is today part of Givaudan.
Founded by chemist Georges de Laire (1836-1908), de Laire became a source of synthetic aroma chemicals, bases, and finished fragrances such as de Laire's Cassis (1889).
While largely known for the perfume bases they have supplied to other companies, over the years de Laire has employed a number of prominent perfumers including Edmond Roudnitska (1905-1996) and Oliver Cresp. Roudnitska assisted in the drafting of de Laire's 1938 catalog.
De Laire's ionone played a role in the development of Roger & Gallet's Vera Violetta (1892). De Laire bases include Prunol, Bouvardia, Ambré 83 and Mousse de Saxe.
—— ## ——
If you have any information you would like to share about de Laire, please use the message sender below.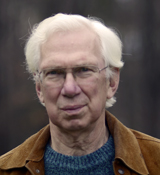 Philip Goutell
Lightyears, Inc.