Lucien Lelong's early perfumes were named with letters — N, A, B, C, J, L — just as Chanel's were named with numbers (5, 22 and, later, 46)

.

Lelong's B is from an age when he was just returning from the war and a year of hospitalization, and trying to make his mark in the fashion field. Between 1924 and 1928 he introduced at least six fragrances — but we don't know their exact order of intrroduction.

For example, it is believed that N — named for his second wife, Princess Nathalie Paley — was his first perfume. But did A follow N and B follow A? We don't know.

The bottle show here is an exquisite "mini" size which might make it a nice gift for a good customer and bring about the purchase of a larger bottle.

The defining quality of Lelong's clientelle was that they had money. Coty may have sought out the middle class agressively but, like other couturiers (with the exception of Chanel), Lelong, at this point in his career, was playing to a very selective audience.
—— ## ——
If you have any comments you would like to add about B or Lucien Lelong, please share them with us using the message sender below.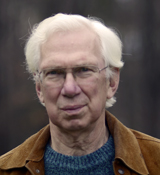 Philip Goutell
Lightyears, Inc.