In 1932, Fortune magazine described Lelong's fashion house as being "the best organized in Paris from a business stand-point." The editors of Fortune were less impressed by Lelong as a fashion leader.
Lelong, according to Fortune, employed many designers plus a review board which was required to pass on each new dress before it was offered to the public. They pointed out quite bluntly that this method of developing new garments was not well adapted to "fashion."
Lelong himself was praised for his personal integrity, his sense of publicity, and his perfect English accent, gained through an Oxford education.
Like Lelong's couture, Lelong's perfumes are not memorable for the fragrances themselves. The bottles, however, show greater imagination and continue to be distinctive pieces today.
Lelong's 1935 Indescret is a wonderful example of elegance and the example shown here stands as a wonderful work of art, even without its decorative, screw-on top.
—— ## ——
If you have any ideas about Indescret or Lucien Lelong, please share them with us using the message sender below.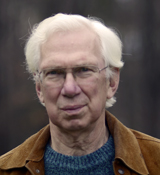 Philip Goutell
Lightyears, Inc.