Click on image to enlarge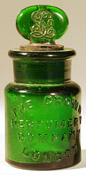 This Crown Perfumery Company bottle lacks a fancy "crown" stopper and is not labeled. Possibly it was used for smelling salts. Possibly this stopper is not original.
The Crown Perfumery was launched in 1872 in London by William S. (Sparks) Thompson, an American industrialist from Connecticut.
Starting in life as a dry goods clerk, Thnompson went on to found at least half a dozen successful enterprises. He was the first to manufacture crinolines in the United States and the first to manufacture corsets by machine. "Thompson's Glove-Fitting Corset" was a huge success on both sides of the Atlantic. Queen Victoria of England was a customer.
Two versions of the founding of the Crown Perfumery have been given. In the first (see "Doctor Basenotes") women were fainting from exertions involved in corset fitting and William Thompson Jr., a chemist, developed a lavender based smelling salt to provide for their revival. The smelling salt developed into the Crown Perfumery.
Click on image to enlarge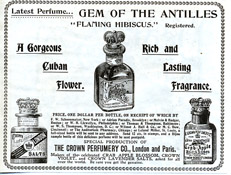 Early ad for Crown perfumes introducing
Gem of the Antilles: Flaming Hibiscus — late 19th century.
American Druggist And Pharmaceutical Record (1902) provides a somewhat less colorful account of Crown's founding. For a while Thompson made his home in Paris where he was manufacturing corsets on a large scale. In 1868 he branched out by purchasing a patent on a railway spring and established the Crown Iron Works at Glasgow. About 1872 Thompson discerned that the lack of popularity of English perfumes was the result of the lack of taste in their packaging. He organized the Crown Perfumery in London where he was now living and once again enjoyed remarkable success, particularly with his Lavender Salts and his Crab Apple Blossom perfumes.
In 1885 Thompson established the American Branch of the Crown Perfumery Company spending $100,000 on advertising "with the most gratifying results." To put this number in perspective, in the early 1950's an owner of the Chanel perfume enterprise remarked that $100,000 was required to launch and promote a new perfume. Thompson's $100,000 in 1885 was a huge investment.
After Thompson's death the company was sold to Lever Brothers (now Unilever) for £300,000. Lever used Crown to promote hair products, then closed it in 1939. In 1993 the Crown Perfumery Boutique opened to reproduce and sell Crown's most successful fragrances. In 2000 Clive Christian, the now owner, closed the boutique saving only eight of its popular scents. In 2001 Christian launched his own scents and by 2002, Crown was gone.
Perfumes By The Crown Perfumery Company
| | | |
| --- | --- | --- |
| Fragrance | Perfumer | Comments |
| Crown Ess Bouquet (1872) | | |
| Sandringham (1873) | | |
| Crown Mitcham (1873) | | "Lavender Bouquet" |
| Crown Rose (1873) | | |
| Crown Esterhazy (1874) | | |
| Crown Alpine Lily (1879) | | |
| Buckingham (1880) | | |
| Crown Fougère (1880) | | |
| Crown Court Bouquet (1882) | | |
| Crab Apple Blossom (1886) | | |
| Gem of the Antilles: Flaming Hibiscus (18??) | | |
| Eau de Quinine (1890) | | |
| Crown Imperial (1905) | | |
| Crown of Gold (1910) | | |
| Parfum Adorable (1910) | | |
| Eau de Russe (1911) | | |
| Soupir D'Amour (1911) | | |
| Malabar (1919) | | |
| Spiced Limes (1921) | | |
| Crown Stephanotis (1921) | | |
| Sumare (1925) | | |
| Town & Country (1925) | | |
| Park Royal (1929) | | |
| Matsukita (1929) | | |
| Sarcanthus (1931) | | |
| Tanglewood Bouquet (1932) | | |
| Crown Heliotrope (1939) | | |
| Marechale 90 (1994) | | Revival under new owners. |
[Additional source material from Parfums Raffy and Basenotes.]
If you have any information on The Crown Perfumery Company, please share it with me using the message sender below.
Maxwell Kalinowski, 06/02/2022. I found this website doing research and attempting to date a newspaper page containing an ad for this company. The teller was the ad selling it's NEW scent "Crab=Apple Blossums", released in 1886.

Thank you
-


— —

Doug Passanante, 06/02/2022. I have a 1920's Crown Perfumery Co. Perfume penny trade stimulator. Place your hanky under the lions mouth and receive crown crab apple blossoms perfume. The vending machine only offered one selection and has a clockwork mechanism. Wonderful
Old machine.
Thanks


— —

David Woodhouse, 05/08/2020. I have a Crown Mitcham Lavender Bouquet green glass bottle, complete with its original metal crown stopper and paper labels. It was manufactured by The Crown Perfumery Co. Ltd from 1921 when under Gossage's ownership. Staff at Clive Christian (formerly Crown Perfumery) have authenticated my bottle but stated that they had never before seen the labelling on my bottle. Nor had the experts at the International Perfume Bottle Association, namely Barbara W Miller, an expert and writer on Crown Perfumery history and Helen Farnsworth, the IPBA archivist. There are no known documentary records of Gossage continuing to produce Crown Mitcham Lavender after 1921 after the company became "Limited". But my bottle proves otherwise. It can be seen here.



— —

TANIYA AHMED, 03/16/2018. Hi There, i actually have a beautiful Frame of Crown Perfumery
Co. I was so drawn to the picture that i had too google more about it. I
loved the bio you had up and the history, thank you for sharing with us.


— —

-, 09/23/2010.
In 1899 William S. Thompson, residing in London and now 76 years old, sold the American Crown Perfumery business to his U.S. business agents, George C. Batcheller, Harry D. Miller, and Edward W. Russell. Thompson retained rights to the Crown trademarks, licensing their use to the buyers and receiving a 25 percent royalty on profits.

The license expired in 1907 and was not renewed. During the period of the license, the Batcheller group, inspired by input from Thompson, launched products of their own, the profits of which were not included in their accounting to Thompson.

By 1911 William S. Thompson was dead but his executor, Charles E. Thompson, pursued Thompson's suit against the Batcheller group for profits that were denied them.

Miller too had a falling out with Batcheller, apparently for siding with the Thompson view of their arrangement, and was removed from his position in the (U.S.) Crown Perfumery Company and forced to sue for profits owed him.

As an aside, George C. Batcheller purchased the Betsy Ross House in Philadelphia and turned it over to preservationists.
-, 09/22/2010.
The oft cited case of Miller vs. Crown Perfumery Co (125 App. Div. 881 -- 1908) lists three founding stockholders of the Crowh Perfumery Company: Henry D. Miller and "defendents" Batcheller and Russell, each of which are said to have held 1/3 or the capital shares.

Who are they? How and when did they acquire their shares? What happened to William S. Thompson and William S. Thompson Jr.?

Were these owners responsible for the sale of Crown to Lever Brothers? If so, when did this sale take place?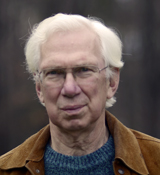 Philip Goutell
Lightyears, Inc.