Click to enlarge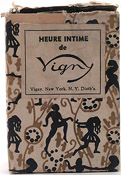 Outer packing for Vigny's Heure Intime showing silhouettes of negro jazz dancers, presumably inspired by variety shows featuring Josephine Baker (1906-1975) who became the highest paid entertainer in Europe and, during the Second World War, worked as an underground correspondent for the Resistance, for which she was later awarded by France the Medal of Resistance with Rosette.
Who were the people behind Vigny perfumes? Who created their fragrances? Was Vigny another of the French perfumeries that, like Corday and d'Orsay, named themselves after (dead) French historic figures? Was Vigny created to honor French poet/writer Albert de Vigny (1797-1863)? If you know, please tell us by using the link at the bottom of this page.
What we do know about Vigny is that, in the 1920's, they were active in marketing perfume. By 1925 Vigny had a number of fragrances on the market that were exhibited at the Paris International Exposition of Modern Decorative and Industrial Arts that year. The bottles on display at this exhibition was said to be ornamented with "butterflies, birds and negro heads".
The "negro heads" were, of course, Vigny's "Golliwogg" -- a perfume bottle with a stopper looking very much like the "Golliwogg" in Florence and Bertha Upton's "The Adventures of Two Dutch Dolls and a Golliwogg". (The book is available for free download from the Gutenberg Project.)
The 1920's were the Jazz Age. Josephine Baker took Paris by storm. Vigny took full advantage of the exotic influence of Ms. Baker not only in "Golliwogg" but also in their "Heure Intime", as seen at left, with its silhouettes of negro jazz dancers on the outer box.
Like Dana and Lanvin, Vigny utilized the expertise of well-known graphic designers. The "Golliwogg" packaging was designed by Michel de Brunoff and his brother-in-law, Lucien Vogel -- both French Vogue editors. Interestingly, this same pair of graphic designers are credited with helping to get "The Story of Barbar" (the elephant) published. "Barbar", long a favorite with children, was the creation of de Brunoff's artist brother, Jean de Brunoff (1899-1937).
Perhaps we should look at the works of Vigny more for their style than for the fragrances themselves.
Perfumes By Vigny
| | | |
| --- | --- | --- |
| Fragrance | Perfumer | Bottle |
| Golliwogg (1918) | | Michel de Brunoff and Lucien Vogel |
| Heure Intime (1933) | | |
| Beau Catcher (1942) | | |
—— ## ——
If you have any information you would like to share with us about Vigny, please use the message sender below.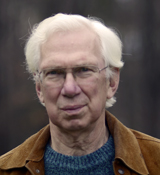 Philip Goutell
Lightyears, Inc.