Click on image to enlarge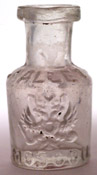 Pre-1917 perfume sampler bottle from A. Rallet & Co. showing (Romanov) Imperial Double Eagle design.
The small bottle show on this page is from A. Rallet & Co of Moscow and once held an unknown Rallet scent.
While this bottle, recovered from Estonia, displays the Romanov Double Eagle design, the imprinted "A. Rallet & Co and "Moscou use the Latin alphabet rather than the Cyrillic, suggesting that this bottle was made for distribution outside Imperial Russia.
Prior to 1917, Russia had many bottle makers and Rallet — whose needs for bottles were vast — quite liukely purchased from a number of bottle manufacturers.
This bottle is crudly made with an asymetrical neck. Quite likely it was stoppered with a small cork.
The Imperial Double Eagle, official emblem of the Romanov rulers of Russia, is permitted to be displayed on the bottle because A. Rallet & Co had been designated official purveyor to the Imperial Court of Russia.
From 1907 until 1914, when war broke out with Germany, Rallet's technical director and chief perfumer was Ernest Beaux who, after returning from the war in 1919, would create the fragrance that became Chanel's famous No.5 from ideas he had been working with at Rallet prior to the war. In 1924 Beaux would accept employment as technical director of both Bourjois and the newly formed Parfums Chanel, positions he would retain until 1960, a few months before his death.
—— ## ——
If you have any information on Rallet, or Rallet's history in Imperial Russia, that you would like to share with us, please do so using the message sender below.
[an error occurred while processing this directive]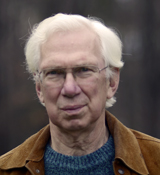 Philip Goutell
Lightyears, Inc.