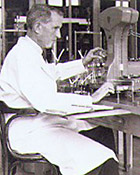 André Fraysse composing
(Note the scale for weighing ingredients.)
Perfumer André Fraysse came from a family of perfumers. His father, Claude Fraysse, and sister, Jacqueline Fraysse, created fur perfumes for Weil. His brother, Hubert, worked for Synarome (and later updated André's Arpége for Lanvin.)
Around 1927, André Fraysse became Lanvin's in-house perfumer. Previously Jeanne Lanvin had offered customers whimsical fragrances made for her by the mysterious Madame Zed. This collection included the now classic My Sin, which, it is likely, was reformulated by André Fraysse at some point in his association with Lanvin.
Lanvin continues to market Arpége.
Perfumes Created By André Fraysse
—— ## ——
If you have any information to share with us about André Fraysse or Lanvin perfumes, please use the the message sender below.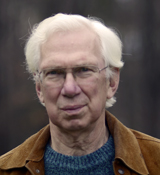 Philip Goutell
Lightyears, Inc.