Charlotte Corday
Charlotte Corday
The French have a sense of humor. They name their perfume companies for dead dandies (d'Orsay) and female assassins.
Founder Blanche Arvoy named Corday after Charlotte Corday (1769-1793) who is best known for curing Jean-Paul Marat's painful skin condition with a knife. Marat's death in his bathtub became the subject of a famous painting by Jacques Louis David. Corday's humanitarian gesture led her trial and execution.
Refusing the last rites at the guillotine, Corday asked, instead, if she might have her picture painted by a National Guard officer named Hauer. The artist obliged and was rewarded with a lock of her hair. Her head, now free from her body, was, apparently, preserved as a memorial and Lady Dorothy Stanley's (as in Stanley meets Livingstone in Africa) mother reported that she had seen it at a social outing some time later.
On a more serious note, Charlotte Corday's patriotic act of murder was aimed at ending the French Revolution's Reign of Terror. Unfortunately, her deed helped turn Marat into a hero and gave his supporters an excuse to execute more dissidents. They became particularly suspicious of women.
Blanche Arvoy
Blance Antoinette Rose Reneaux was born on December 21st, 1892, at Montreuil Sur Mer, near Calis. She married an Englishman, Bertie Istvan Arvoy, and thus became Blanche Arvoy. In addition to Corday, she also established Jovoy, a fragrance house that sold a number of fine perfumes in bottles featuring whimsical animals: Allez hop! (a dalmation dog), Allez Coco! (a parrot), Gardez-mois (a cat), and Severem (a camel and rider). Corday was launched in 1924.
Corday began its U.S. operations in the 1940's. Tzigane — the gipsy violin — (1949) being its great success. In the United States, T.C. Wheaton of Millville, New Jersey, was the major supplier of bottles. Wheaton had the capability of manufacturing both bottles and stoppers. Corday discontinued its U.S. operations in the 1960's.
Corday was among the early 20th century perfumers that attracted new customers by launching sample collections. Sample tubes or miniature bottles were distributed, sometimes with matching souveniers such as bookmarks or illustrated cards. Others using this strategy included Guerlain, Bourjois, Colgate, Roger & Gallet, L.T. Piver, and Coty.
Corday's most impressive use of this technique was in their "Rue de la Paix" collection of 1952. The design was a Parisien lamp post with miniature bottles of Corday perfume inside each of the three "lamps". Included in the presentation were Fame, Jet and Tzigane. The name, "Rue de la Paix," was taken from Corday's address at 15 Rue de la Pais, Paris.
Perfume Set To Music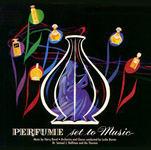 Record Jacket of "Perfume Set To Music"
Many people who are involved with perfume have seen a relationship between certain fragrances and certain musical compositions. Perfumery schools encourage student perfumers to think in terms of music when composing a fragrance. Perfumer Edmond Roudnitska wrote on the subject in his book, Le parfum.
In 1936, the British composer Harry Revel met a woman at the bar of the Hotel George V in Paris and was taken by her perfume. (Reports are that she was also quite good looking.) She revealed to him that she was wearing Corday's Toujours Moi.
Revel paid a visit to the Corday operation in the south of France and sampled a number of Corday fragrances. Thus inspired, he composed a series of musical sketches called Perfume Set To Music. To enhance the effect of the music, Dr. Samuel Hoffman, a podiatrist and Theremin virtuoso, was brought in to play the Theremin, an early electronic instrument. Some strings were added, the young Leslie (Les) Baxter was commissioned to arrange and conduct, and RCA did the recording (RCA Victor EPA-231) which is now available on a CD set of Hoffman's music. (Hoffman also provided music for films such as "Spellbound," "The Lost Weekend," and "The Day The Earth Stood Still.")
The six Corday fragrances chosen for Perfume Set To Music were Toujours Moi, Tzigane, Possession, L'Ardent Nuit, Jet and Fame.
| | |
| --- | --- |
| Recording "Perfume Set To Music" in 1947. Dr. Samuel Hoffman, with Theremim, is shown standing at the right. | The six Corday fragrances chosen for Perfume Set To Music were Toujours Moi, Tzigane, Possession, L'Ardent Nuit, Jet and Fame. |
Perfumes By Corday
| | | |
| --- | --- | --- |
| Fragrance | Perfumer | Bottle |
| Blanchette (1920) | | Baccarat crystal designed by George Checvalier. (Blanchette was also sold by Jovoy) |
| Kai Sang (1924) | | Maurice Depinoix |
| Toujours Moi (1924) | | |
| L'Orchidée Blue (1925) | | |
| La Plus Belle (1927) | | |
| Quand? (1929-1930) | | Designed like an opium box. |
| Possession (pre-1947) | | |
| L'Ardent Nuit (pre-1947) | | |
| Tzigane (pre-1947) | | |
| Jet (pre-1947) | | |
| Fame (pre-1947) | | |
| Rue de la Paix (1952) | | Not a perfume but a "Paris Lamppost" presentation of miniatures of Jet, Fame and Tzigane. The name refers to the company's address in Paris. |
| Trapéze (1956) | | |
—— ## ——
If you have any information on Corday perfumes, please share it with us using the message sender below.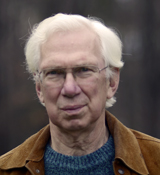 Philip Goutell
Lightyears, Inc.