Click on image to enlarge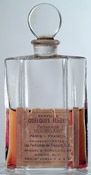 An older bottle of Quelques Fleurs perfume, distributed by Houbigant's Mexican representatives, Las Parfumas de Francia, S.A., Mexico City.
Robert Bienaimé was a protégé of Houbigant perfumer Paul Parquet, the first perfumer to make significant use of a synthetic aroma chemical with his 1882 Fougére Royal.
In 1903, aldehydes first became available when Georges Darzenssynthesizedd C-12 MNA and E.E. Blaise isolated the series C-8, C-9, C-10, C-11, and C-12 Lauric. Darzens' previous work on synthetics had helped create L.T. Piver's Le Trèfle Incarnat (1896), Azuréa (1897), and Floramye (1905).
In 1912, Houbigant launched Robert Bienaimé's Quelques Fleurs, a floral-aldehydic fragrance with what has been described as a modern feeling. Quelques Fleurs made use of aldehyde C-12 MNA. Perfumers took note.
The following year, A. Rallet & Co. of Moscow launched Ernest Beaux's Bouquet de Catherine, Beaux's first use of aldehydes and a direct predecessor of his No.5 for Chanel.
In 1914, Parfums de Rosine, Paul Poiret's perfume company, launched Le Fruit Deféndu — with aldehydes — by perfumer Henri Alméras. Almeras and two other perfumers — Henri Robert and Vincent Roubert — all became companions of Beaux at Chiris immediately after the First World War. All would go on to develop fragrances of note — inspired by Robert Bienaimé's Quelques Fleurs.
Parfum de Bienaimé
Paul Parquet was self-trained in chemistry. Robert Bienaimé had studied chemistry and excelled. In 1909 when reaching out for an association with a "real" chemist for Houbigant, Parquet bypassed more experienced chemists Justin Dupont and Eugène Charabot and selected Bienaimé who had been introduced to him through a family connection.
Within three years Bienaimé had mastered the basics of perfume creation and had adopted a creation style of his own. He continued to create for Houbigant until sometime shortly after the financial meltdown of 1929.
After the death of Paul Parquet, Robert Bienaimé became co-partner with Fernando Javal, son of the late Alfred Javal, Parquet's partner in Houbigant who had worked the marketing and production sides of the business. The Houbigant firm briefly took on the Javal name and then became Bienaimé Houbigant.
During these years of expansion Bienaimé brought to Houbigant the talents of Paul Schving, Paul Leroux, Raymond Kling, André Copaux, Degont Desplanques and Marcel Billot among others.
In addition to the world economic crisis, 1929 brought the unexpected death of Paul Schving who had worked closely with Bienaimé and had been a considerable asset to the company. Then, after disagreements with Houbigant's board, Bienaimé left to found his own company.
Parfums de Bienaimé launched its first fragrance in 1935. Bienaimé also launched a cosmetics company under the name Robel. In spite of considerable activity in support of various industrial processes and other institutions, Bienaimé continued his involvement in his own perfume company until his death in 1960 at the age of 84.
Perfumes for Houbigant
| | | |
| --- | --- | --- |
| Fragrance | Year | Marketer |
| Quelques Fleurs | 1912 | Houbigant |
| Quelques Violettes | 1913 | Houbigant |
| Mon Boudoir | 1918 | Houbigant |
| Un Peu D'Ambre | 1919 | Houbigant |
| Le Temps de Lilacs | 1921 | Houbigant |
| Au Matin | 1923 | Houbigant |
| Celle Que Mon Coeur Aime | 1925 | Houbigant |
| La Belle Saison | 1925 | Houbigant |
Parfum de Bienaimé
—— ## ——
If you have any information you would like to share with us about Robert Bienaimé, please use the message sender below.
Arne Andersen, 01/24/2017. There were three additional scents: Lavande de Valreas (1935), Les Carnations (1943) and an undated Gardenia, which can be seen on Ebay as part of a three bottle box, currently 1/23/17 for sale.

[an error occurred while processing this directive]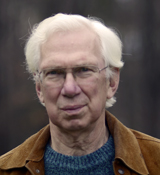 Philip Goutell
Lightyears, Inc.